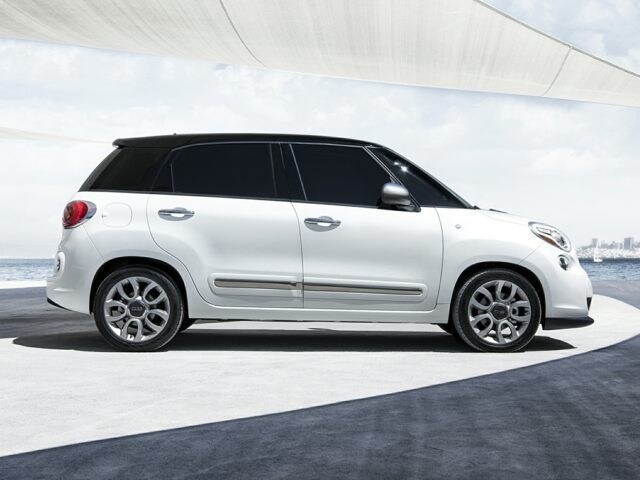 The FIAT 500L stands out from the crowd, but how does it stack up to the competition? Find out here at Rick Cast FIAT
At Rick Case FIAT, we know that drivers here in the South Florida love FIAT cars for a number of different reasons. That said, if you ask some of our satisfied customers from Miami to Fort Lauderdale why they love their FIAT cars so much, chances are they'll tell you it's the unique style and appeal of the brand that drew them to our Davie, FL dealership in the first place.
Now, there's no denying that when it comes to the auto market these days, the FIAT brand has no equal…but that does make it a little challenging to compare FIAT cars to their competitors. However, at Rick Case FIAT, we aim to be a resource for all things FIAT to our valued customers. That's why we've taken the liberty of researching a competitive comparison for one our most popular new FIAT models, the FIAT 500L to some of its closest competitors on the market, the MINI Countryman and the Ford EcoSport.
FIAT 500L vs. MINI Countryman
Now, if you're interested in the FIAT 500L, you're likely looking for a stylish, comfortable car that's great for around-town driving with friends in nearby Weston and Hollywood, FL. And while the new FIAT 500L more than fits the bill in that regard, you'll be happy to learn that it's also more powerful than the MINI Countryman, making it a more engaging daily driver overall.
Choosing a small car shouldn't mean sacrificing cargo space, and no one understands that dynamic better than FIAT. With a 22.4 cubic-foot cargo area with split-level loading configurations behind its second row, the FIAT 500L offers plenty of space for small coolers and tote bags for a relaxing day by the ocean in West Palm Beach. By comparison, the MINI Countryman only offers 17.6 cubic-feet of cargo space, meaning you'll have to really squeeze to fit all your stuff into it.
If you're like many drivers in here in Davie, you want more than just a means of transportation. You want something that's a unique expression of your own signature style. Luckily, the new FIAT 500L comes with nine vibrant colors to choose from standard, affording you ample opportunity to customize it to your heart's content. On the other hand, the new MINI Countryman only offers four standard colors, and they're pretty dull colors at that.
FIAT 500L vs. Ford EcoSport
When you compare the new FIAT 500L and Ford EcoSport in terms of performance, the latter fares even worse in comparison than the MINI Countryman. Not only does the FIAT 500L offer more standard power than the Ford EcoSport, it also achieves better standard highway fuel economy, making it great for zipping around the Fort Lauderdale, FL area with ease.
One of the best things about living in South Florida is the sunny warm weather, and if you're anything like us, you want a car that can help you enjoy the sunshine out on the road. Luckily, the FIAT 500L can be equipped with a dual-pane power sunroof that positively floods its upscale cabin with light and air. By comparison, the interior of the Ford EcoSport feels more closed in and cut-off from the sunlight, as it only offers a smaller power moonroof as an option.
With more headroom in the front and rear seating positions, the  cabin of the FIAT 500L is markedly more comfortable for taller drivers than that of the Ford EcoSport.
Visit our FIAT showroom near MIAMI to see for yourself all that the new FIAT 500L has to offer
We think it's clear that from this comparison alone, the FIAT 500L easily outclasses competitors like the Ford EcoSport and MINI Countryman. That being said, if you're really interested in the new FIAT 500L, a test drive is the best way to truly get to know it. So, feel free to stop by our Rick Case FIAT to try out the new FIAT 500L today!